30 mai 2015
Je finis mes en-cours qui traînent depuis l'éternité ! tricoté sur le fils coton, inspirée par les motifs "Shetland Lace" interprétés par Hazel Carter avec son Sampler Stole et Châle "Myrthen" du Magnifique Livre "Vintage Knitting in Tradition".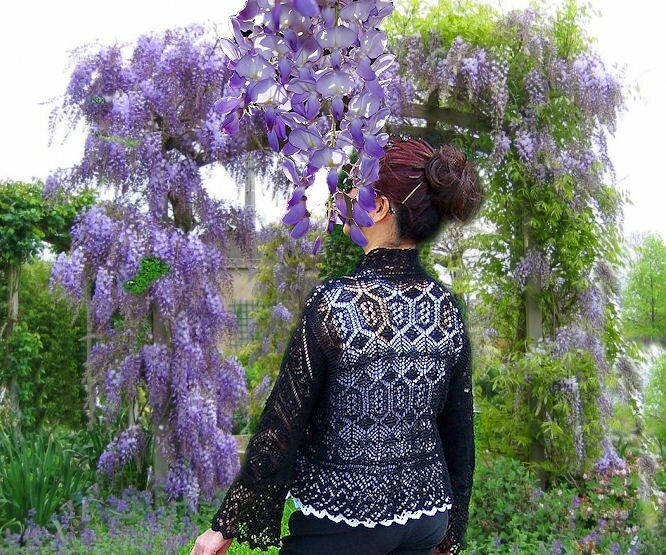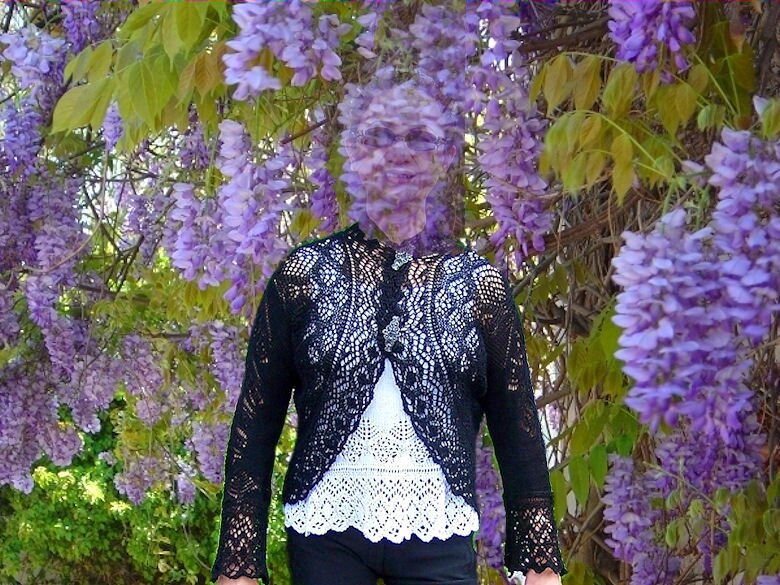 30 mars 2015
I've been so busy with my new hobbies and don't have time for knitting & beading. I've just finished a bolero started last year ! I've spent lot of time in learning how to add beautiflul frames on pictures & just love it ! Thank You Diana for your beautiful tutos :)
20 février 2014
I am excited to start this KAL with Lily Go. I really love the Flowers themes in knitting ! So here we go ! This will be a half circle shawl, with Beads, and knitted with Pure Silk Yarn from The Loom Bangkok :)
This project will be knitted in my favorites colors : Amethyst & Pistachio
KAL started today : Thursday 20th Feb 2014
My project is in hold due to the fact that I couldn't find the same yarn to continue this project ! Hopefully one day I will ....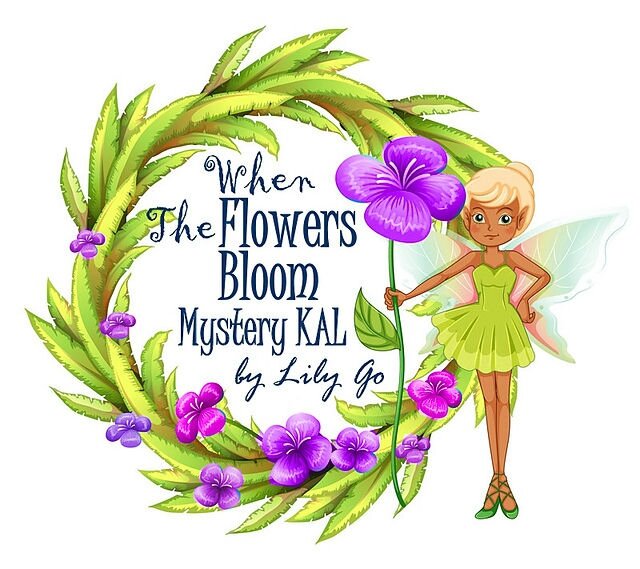 01 janvier 2014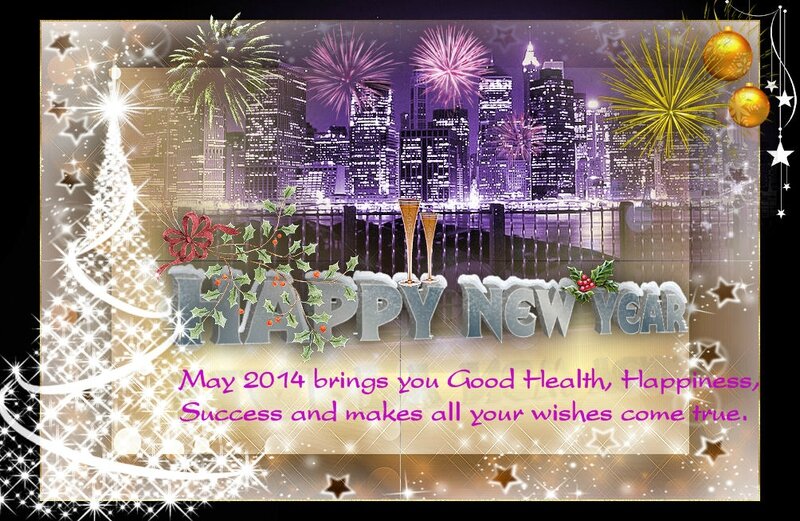 05 novembre 2013
I've just learnt how to practice TaijiQuan since June this year and really addicted to this practice. My mind is overwhelmed with everything related to TaiChi, so I wanted to bead a bracelet to wear it. I love to practice the 103 forms everyday and read lots of books about this practice ! Got to bead others colors, especially in my favorite one : Purple :)
To bead this beauty, I was inspired by lot of Bead designers all over the Net & my bead friend Marvina helped me (http://cycoblog2.canalblog.com/)
30 août 2013
I love wearing Bolero, so I adapted the Dreambird Pattern to create my favorite bolero :)
Love the shape, the colors & the touch of Violet Lace yarn and Noro Sock Yarn :)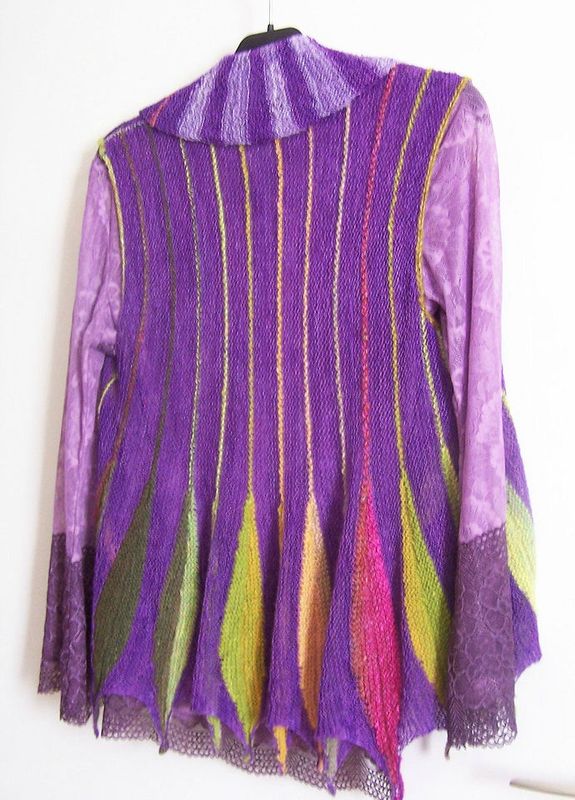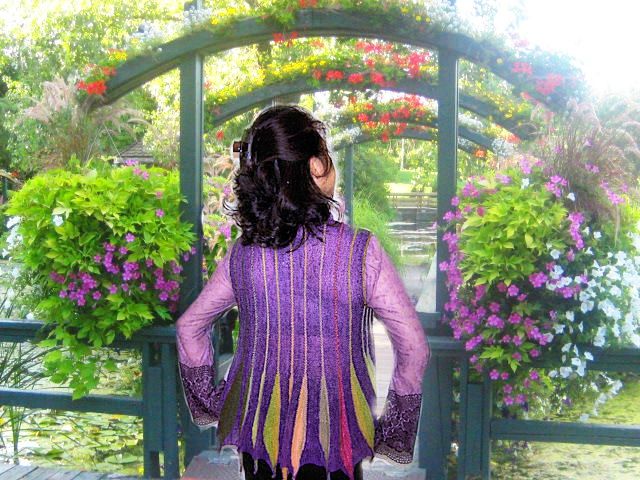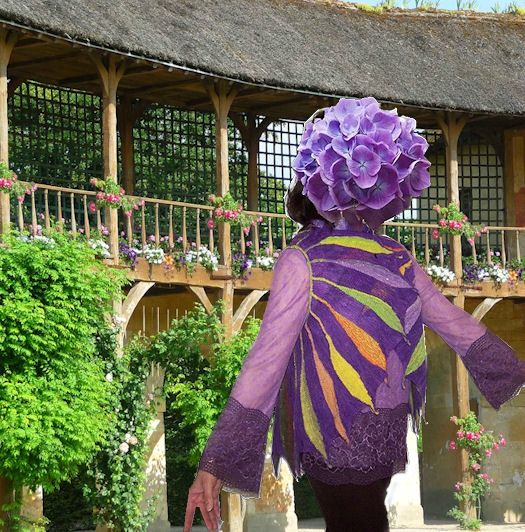 19 juillet 2013
I love her designs, love the name of the KAL : MAYAN GARDEN. Love anything related to Flowers & Gardens, and I can put beads in this beauty, so how could I resist to such knitting project :) http://www.ravelry.com/discuss/kitman-figueroa-designs/topics
This is a Mystery KAL, we discover each week 1 clue to knit with, I know that I'll learn lot of knitting techniques :)
Use my Pure Cashmere Yarn of Dark Fuchsia, 6 ply Colors and Golden Olive Seed Bead 6°
12 juillet : Clue 1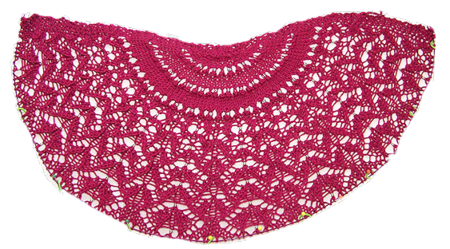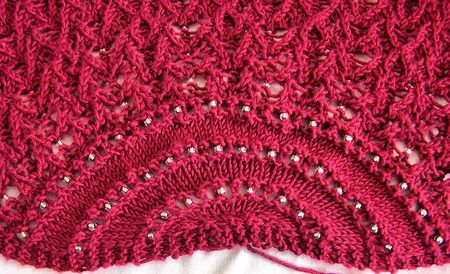 19 Juillet : Clue 2
And now the whole shawl is completed : It's so BIG !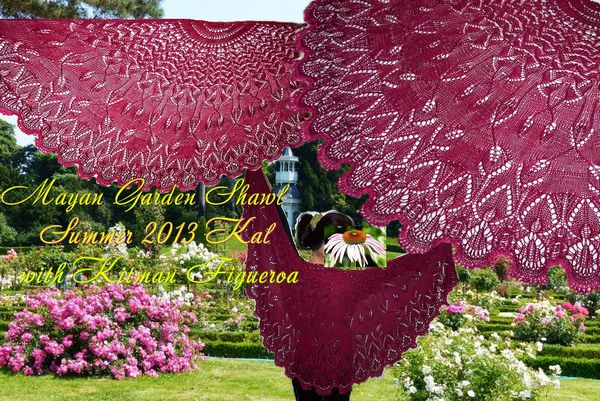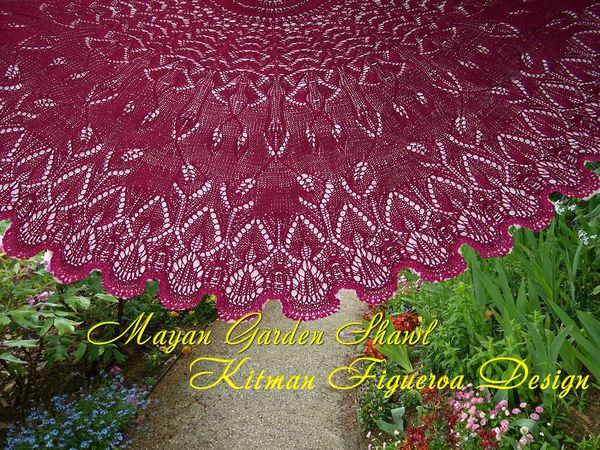 13 juillet 2013
Reçu un petit cadeau : un petit bout de tissu Liberty, alors j'ai envie de créer un haut avec ce tissu, mais comme j'en ai très peu, alors j'ai mélangé avec du vieux tissu de mon ancien vêtement ! je l'ai customisé à mon goût :) D'autant plus que j'aime beaucoup le mariage de couleurs : Aubergine et Vert moutarde
Tout comme le tricot, la couture, c'est vraiment mon bricolage, je coupe les tissus comme envie me prendre, je ne respecte pas de techniques, ni règles ! C'est entièrement à ma sauce :) tout comme le nom du tissu : Absolutely Liberty !
J'avoue que j'ai en effet feuilleté "je ne me rappelle plus le nom du magazine" pour m'inspirer le modèle:)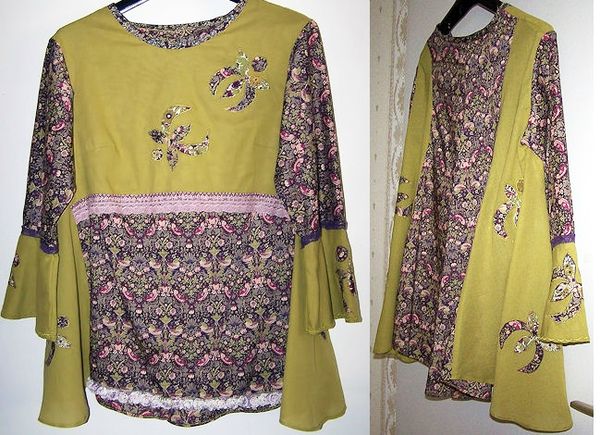 01 juin 2013
I am so happy to knit this technique, it's always exciting for me to learn new knitting techniques, this pattern is designed by Nadita Swings. To knit this shawl, I am so pleased to use up all my leftover Noro Garden Lites Yarn. I need only one skein of KidSilk Haze from Rowan and one skein of Party Angel from Debbie Bliss
18 février 2013
Cette année, le thème du salon est porté sur le TRICOT, alors je ne veux pas rater cette occasion ! Mais je suis un peu déçue, de ne pas pouvoir admirer les beaux tricots, le but de mes visites est essentiellement la recherche de l'inspiration! Déjà les stands de laine ne sont pas si nombreux que je pensais ! le seul stand sur la laine que je trouve très original est celui de RIO FUKUDA, une Artiste Japonaise, qui réalise de Magnifiques et Délicieuses gâteaux en laine feutrée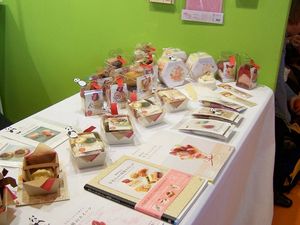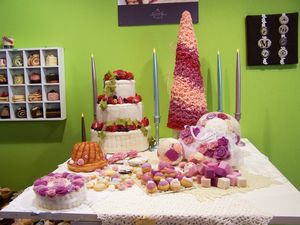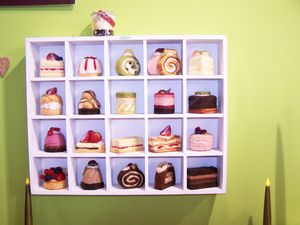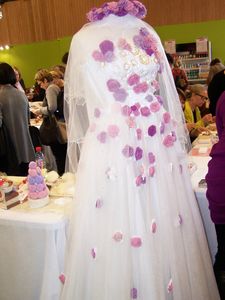 Je vous disais donc que je suis déçue de ne pas trouver de jolis modèles châles en Shetland Lace, le seul que je trouve sur le salon est celui-ci :
Le mien, celui que j'ai porté pour ce salon est plus intéressant en terme de points dentelle et j'ai eu beaucoup et beaucoup de compliments sur mon Poncho en Shetland Lace :)